TABLE TOP MODEL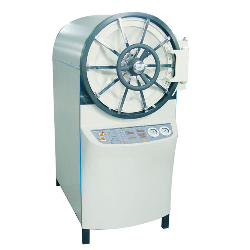 The Pressurised Steam Sterilizer or ETO is a small, simple to operate, table - top autoclave for sterilization of linen, glass ware, syringes, instruments etc. It is mainly intended for use in doctors and dentists surgeries, outpatient clinics, laboratories, & hospital wards, where highly skilled invasive surgery is performed.

We manufacture a wide range of medical sterilizer and hospital sterilizer that are available with different features that simplifies the process of sterilizing which is one of the vital parts of medical practice.
Hospital Sterilizes are available in two types:
Cylinder operated
ETO gas cartridge operated
Steam Sterfilizer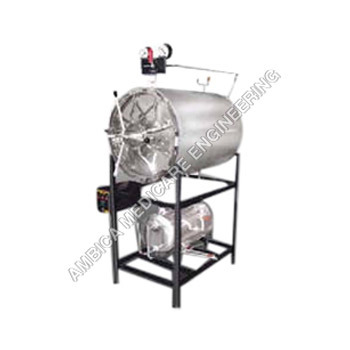 We're on the edge of steam innovation with features that increase your productivity, lower your operational costs and are friendly to the environment. We provide an exclusive gamut of fully automatic horizontal autoclave sterilizers. It is the most ideal for institute or laboratory doing bulk sterilizing research work. This autoclave has double walled inside and outside made of stainless steel 304 quality. All these sheets are argon arcs welded. These sterilizers are tested hydraulically as well as electrically for safe operation. The hinged door is made of thick stainless steel plates. The radial locking system comprising of thick rectangular ss bars with safety, mechanism, ensure complete risk free and leak proof sterilizing cycle. Automatic self closing device to prevent opening of the door while sterilizer is in operation and under pressure. The stainless steel steam generator unit is fitted with easily replaceable heating element and is fixed at the base of ss frame. Water level indicates the water level inside the boiler. It is fitted with pressure gauge, safety valve and steam release cock. Control panel of this unit consists of main switch along with the indicating lamp, a pressure control switch. Pressure can be set from 10 to 20 psi. Separate valve for injecting the steam into the main chamber and releasing the steam after use are also provided. These are suitable for operation at 440 volts 3 phase 4 wire 50 cycles supply.
There are various options attached to these products which are as follows
Digital temperature indicator
Thermograph to record sterilizing temperature and time
Door at back also
Fully automatic PLC base
Hospital Autoclave / Pharma companies Steam Sterilizer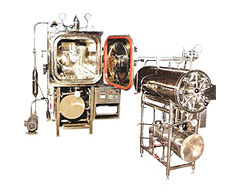 Our autoclave steam sterilizers are operated using external steam or with built in steam generators, depending upon the availability of the steam. Different cycles can be selected, depending upon the product to be sterilized.
Features
Contact parts like the chamber is made of S.S. 316 and jacket is made of S.S. 304.
Specially designed radial or sliding type door interior.
Special locking and sealing system is available with the doors.
Sturdy tubular mounting for the equipment.
S.S. 304 outer cover is especially designed for insulation
Specially designed tri-clover end connector is provided for the equipment with S.S. 304 / S.S. 316 piping.
Better temperature uniformity inside the chamber reduces the heat loss due to radiation.
This prevents simultaneous door opening at a time when the process is "On".
Self locking safety features for doors is also provided, due to which the doors can't open under pressure.
Designed for best possible adaptation to the customer needs.
Designed in compliance with the regulations laid down for pharmaceutical products to meet c GMP norms.